The pandemic has dramatically altered our sports traditions, pastimes, recreation, and competitions. This year's Super Bowl LV is no different. Tampa Bay's Raymond James Stadium, designed to accommodate upwards of 65,000 fans, will feel a whole lot roomier on Super Bowl Sunday with capacity capped at 22,000. But though the stadiums and arenas full of loud, passionate fans are at reduced capacities right now, these spaces are still serving vital public needs: as triage hospitals, polling centers, and most recently, as vaccine centers. And, as Scott Schiamberg, Perkins Eastman's Director of Sport and Exhibition says, this only scratches the surface of their latent potential.
Perkins Eastman's Future of Sport team, led by Schiamberg, is considering both new and pre-existing issues in sport, drawing from their collective knowledge to identify how COVID-19 presents opportunities to transform sport in ways that could outlast the pandemic itself.

The roster includes planners and designers from within the firm: Jason Harper, Director of Health Care, Josh S. Jackson, Senior Associate, and Rebecca Milne, Director of Design Strategy, as well as experts from sports administration and academia: Merrily Dean Baker, retired Director of Athletics, Princeton University and Michigan State University, Kiernan Gordon, Assistant Professor, Sport and Recreation Management, University of New England, and Glenn MacCullough, Founding Principal of MacCullough Architects.
"In contrast to many others who have been reactive in trying to address COVID-19-related challenges," says Kiernan Gordon, "we've tried to reframe the issue and view the pandemic as an opportunity to reshape structural issues inherent to access, spectatorship, and participation in sport."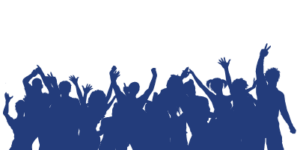 1 | Sport and Spectatorship
As has happened in so many other areas, the pandemic has revealed underlying issues to sport spectatorship that were in existence prior to 2020. In recent years, "Technology [has] advanced so you can watch the game from the comfort of your own home. You can order better food at a lower price and watch the game on a wall-size LED screen in hi-res definition," says Scott Schiamberg.
The character of stadiums has evolved as well. "In the early 1900s ballparks provided a community for the working class … Now, many of the best seats are purchased for corporate accounts," adds Schiamberg. Perhaps the pandemic, which has only accelerated changes already taking place, "is the catalyst to get the in-person, live venue experience to evolve," says Glenn MacCullough. "We are hardwired to have these social interactions. Sport is a device to develop camaraderie, community, and social interaction," he adds.
Through the creative application of technology, the cumbersome aspects of the traditional in-game experience can be mitigated while the best of the at-home experience can be brought into the arena. Standing in line for restrooms and concessions was never a popular aspect of attending sports events — digital reservation-based systems borrowed from the world of healthcare may finally spell the demise of long lines for concessions and restrooms. Likewise, the paper ticket is likely obsolete, replaced by contactless digital systems that both prevent the spread of contagion while facilitating a more seamless and secure entry process. Apps for phones, tablets on the backs of seats, and large screens placed throughout the stadiums can offer the gameplay views and commentary that were once only available to at-home spectators. Still, some things are likely to remain the same. Merrily Dean Baker asks, "What is sports if they don't have the fans? The communal aspect of sport is taken for granted and now we all realize how much we need it."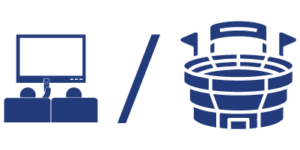 2 | Community through Sport
Creating places that foster community-building will be a key challenge in their re-emergence from the pandemic. "Sports are supposed to bring people together. People rely on the traditions inherent to sport and sporting events as something familiar during a time when life is not that familiar," says Baker. Architecture and planning will be part of the solution. "Our focus has largely shifted to the question of how can sport be used to build better communities?" says Rebecca Milne.
This question has particular relevance for intercollegiate athletics. Across the U.S., colleges and universities are cancelling or postponing sport seasons for many sports that don't draw big crowds to address budget shortfalls. One result of this is the creation of distinct facilities and experiences, disconnecting student-athletes from each other and the broader student population.
According to the NCAA, fewer than two-percent of college student-athletes move on to professional sports; a greater good may be served by facilities that support stronger community connections and wellness, rather than those that isolate teams. This future may include more competition and practice venues with shared components, allowing cross-sport engagement and connections between student athletes and the campus community at each institution. When we eventually emerge from the pandemic, there will be an opportunity to challenge the status quo and articulate a future of collegiate athletics that results in stronger, more equitable, and more inclusive communities (and the buildings and spaces that foster them) than what existed before the pandemic.
At Rutgers University's Athletic Performance Center, cross-sport engagement between teams, staff members, and the broader campus community is a meaningful component of the athletic programs. For instance, when the women's gymnastics team (pictured above) was preparing for a competition prior to the pandemic, they invited members of the men's basketball team to stand alongside the balance beam, helping train their nerves for the intensity of competition. This not only helped the gymnasts focus under pressure, but also nurtured camaraderie amongst teams and strengthened the sense of community.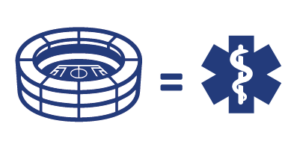 3 | Sport Venues as Resiliency Hubs
Architecture and design are playing an important role in sports in the current moment. Design professionals are collaborating with sports personnel to reconsider seating and spacing for physically-distanced fans and retrofitting back-of-house facilities to respond to personnel safety and CDC guidelines. To make stadiums more sanitary and efficient they are incorporating technology: using touchless faucets, light switches, trash receptacles, and adopting apps for reservations to prevent long lines and crowds.
Looking to the long term, however, means addressing not just the current crisis but the next one — whose threats and characteristics are unknown.
"I keep thinking," says Jason Harper, "what would the new sport architecture be as a result of the pandemic? A lot of people in healthcare are retooling their facilities as a consequence of the pandemic in anticipation of another threat at some point. How can sports venues do this? How would they change?"
Historically, athletic venues have been called into service in times of need to perform roles far different from those for which they were designed. During the start of the pandemic, some colleges and universities converted practice facilities into triage hospitals, stadia and arenas were used as polling stations for the 2020 election, and recently, stadia around the world have been converted into vaccination centers. Perhaps most notoriously, New Orleans used the Superdome as a "shelter of last resort" for those displaced by Hurricane Katrina in 2005, providing refuge to tens of thousands who had no place to go.
Given the untapped utility of athletic facilities, we should proactively design future arenas and stadia to better support the public wellbeing in times of need. For architects and planners, seeing both competition venues as hubs of resiliency could mean modest adjustments in early design phases and literally save lives.
Designing the Future
Competition and play inspires us, challenges us, and unites us. As the vaccine is distributed and sports make their full return, we have the chance to address the myriad challenges brought on or augmented by the pandemic. Blending the onscreen, digital experience of watching sports with the live and in-person environment, designing practice, training, and competition facilities that promote community, and designing our sporting arenas and complexes to support public service beyond sports and live entertainment are exciting opportunities that foster equity, collaboration, and wellness; opportunities that are human by design.