The year 2020 represented an almost total upheaval to the ways in which we work. The abrupt changes to workplace caused by the coronavirus pandemic leave us with many questions about the future. Will we revert to our pre-pandemic modes of working? Will we maintain our remote policies? Or will we find a better balance, and see a convergence between old and new as we move beyond 2020? There are many unknowns for the future of workplace. To navigate these uncertainties, Perkins Eastman is releasing our new 2020 Workplace Benchmarks Report, which explores data gathered from 2017–2020.
Benchmarking
In architecture, we use benchmarking to understand the connections between space and human behavior. We utilize these findings to track our clients' needs: identifying and prioritizing improvements to help our clients work better, build company culture, and make smart real estate decisions.
Building off our current findings, which represent data from before and during the pandemic, we can predict how benchmarks will evolve post-pandemic. The data we've compiled takes into account feedback from 3,285 employees in 42 workplaces, exploring 7 industries located in 24 cities across the United States. With nearly 3 million square feet of office space and footprints ranging from 6,900 sf to 425,000 sf, we've evaluated a broad range of information.
This report is the first in a series of annual benchmarking reports that will build a robust internal database across all of Perkins Eastman's practice areas. These reports will highlight our findings and make key recommendations for enhancing where we live, work, and play. The full Workplace Benchmarks 2017 – 2020 report can be downloaded here.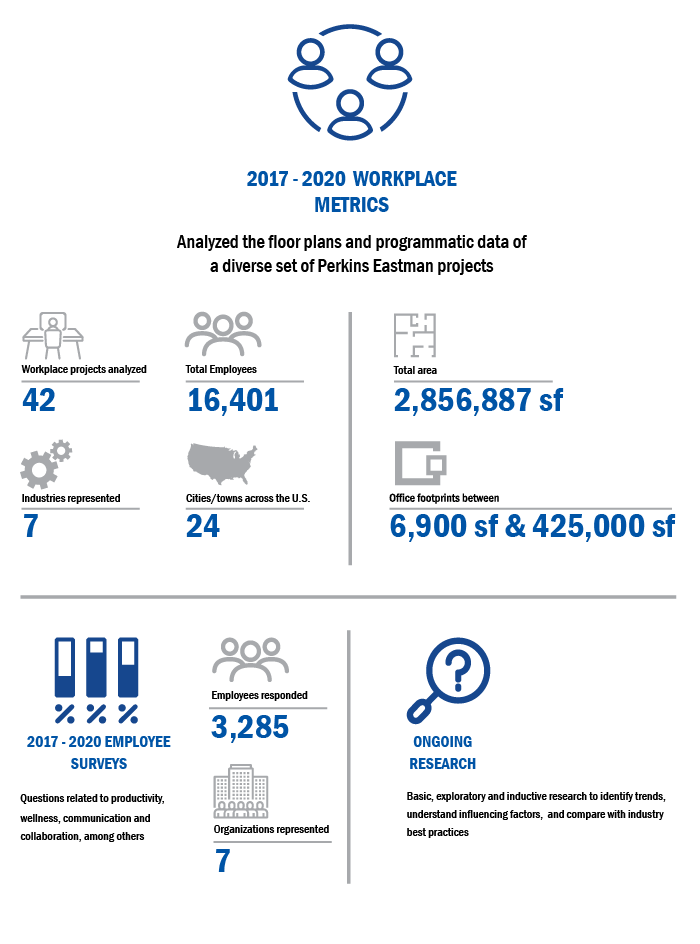 Drivers of change
From our research and observations we've compiled 3 drivers of change that we believe will impact workplace design going forward. These correlate with many of our key insights, drivers we expect to be reflected in subsequent years.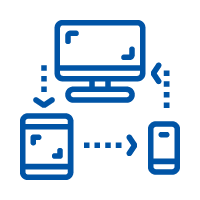 1 | Flexibility in an uncertain time
Our survey data and research showed that for workers and companies alike, there is a push for more flexibility, reinforcing our early predictions of COVID-19's effect on Work/Life. At the macro scale, companies are looking for more flexible or short term lease agreements based on an uncertain economy. At the micro level, employees who enjoy working from home expect to continue to do so, and desire a workplace that adapts to new needs like more socialization and single private rooms for heads down work.
We see a desire for:
Fewer permanent / assigned workstations and more unassigned touchdown / shared spaces
Single-size offices to increase space efficiency and flexibility
Interchangeable office and collaboration room sizes to increase space efficiency and flexibility
Less personal workspace / more communal and collaborative space
Flexible and short-term lease contracts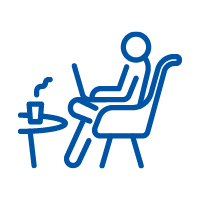 2 | Wellness at all scales
Overwhelmingly, we saw an expectation for buildings and companies to take employee health seriously, at the level of infrastructure and culture, from high quality HVAC systems to an efficient flex/work policy that seamlessly integrates remote employees into company culture.
We see a desire for:
High quality (e.g. new and Class A) spaces with premium amenities
High quality filters and efficient HVAC systems
Enhanced focus on employee health and wellbeing, such as hands-free technology and improved HVAC systems to prevent the spread of airborne diseases
Embedded technology to support work and collaboration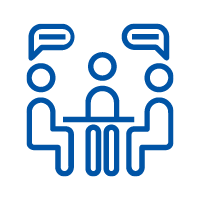 3 | Hybrid environments that reflect enhanced digital lifestyles
Our reliance on technology has increased exponentially during the pandemic. This reliance will not go away even as we return to the office. We expect workplace environments to increase their digital infrastructure to not just accommodate a remote workforce, but to create seamless hybrid communities.
We see a desire for:
Less personal workspace / more communal and collaborative space
High quality (e.g. new and Class A) spaces with premium amenities
Embedded technology to support work and collaboration
The full workplace benchmarking report 2020
Our Workplace Benchmarks 2017 – 2020 report
We invite you to explore our full report to see the data collected for your industry; this is an exciting start to a measurable database that will aid people in responding to radical changes in the workplace caused by COVID-19. As spatial parameters and demands evolve, we will be ready to guide clients through new and creative ways of working.