The current pandemic has not changed the foundation of smart real estate strategy: companies still want a maximum return on their investments. What it has changed are the desires of companies when they look for that perfect new office space. As Perkins Eastman workplace practice area leader Mark Van Summern said in a recent interview, "It's not rocket science, its Real Estate 101, you want to get maximum return from the location you invest in." Since the pandemic has shown a largely successful shift to remote work, however, people can work from anywhere, meaning they can also live anywhere. In light of this, the suburban home close to the city headquarters may now seem less appealing, and unnecessarily expensive.
Van Summern sees the need to consider factors that were not on the radar eight months ago.
"Clients are wondering: is this a short-term problem that needs to be solved, or is this a structural change in how we do business? Where do our staff want to live and what new workers' rights do we need to consider and address from an HR perspective?"
From our previous research, interviews, and roundtables, Perkins Eastman has tracked the shifting priorities of top talent and major companies, compiling what we think is the future of workplace design in a post-COVID-19 world. Assuming a successful vaccine rollout and a return to low unemployment rates, candidates interviewing for new positions may desire not only a competitive salary, but a flexible remote working policy, specifications on ventilation systems, and/or a demand for LEED- or WELL-certified buildings. Perhaps most pertinent to them will be the company's policy on disease remediation in the workplace and worker health screenings. New worker expectations mean companies will need to change their priorities when they look for that perfect new office space.
But the foundation of smart real estate strategy remains the same: companies still want to maximize their investments.
In their post-COVID-19 commercial real estate report, Perkins Eastman's Design Strategy team delved into the key insights they believe will shape the real estate market going forward. Through surveys and research, they found that clients' desires may shift toward 1) prioritizing flexibility, 2) reassessing space needs, 3) embracing the hub and spoke model, and 4) adapting office benchmarks.

To test these theories, Perkins Eastman is using our own offices as case studies to evaluate ideas in practice.
We were in the early stages of designing our new Pittsburgh studio when the coronavirus reached the United States in March. Pivoting quickly, our Pittsburgh workplace design team modified pre-COVID-19 planning to better accommodate new, flexible, and adaptable work-from-anywhere modes, while maintaining the schedule of a spring 2021 relocation.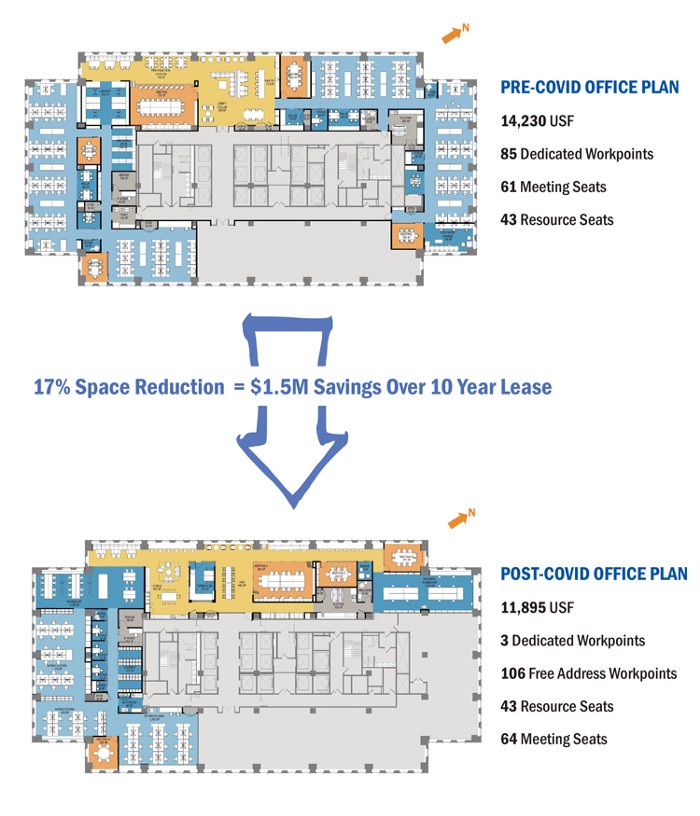 Jeff Young, AIA, Co-Managing Principal of the Pittsburgh studio and a leader in our workplace and commercial practice areas is ambitious about the plans for the new studio, noting,
"We're reimagining what the ideal workplace should be during these uncertain times."
Real Estate Strategy in our New Pittsburgh Studio
Prioritizing flexibility: To safeguard against future financial losses, companies may prioritize flexible lease contracts, adaptable layouts, and locations easily accessed by car, bike, or foot.
"People can work from anywhere, but there will always be times when you need to be together to collaborate, such as when you have a design review pin-up, ideate at a white board, huddle around material selections in the library, or just sit down side-by-side and talk," said Young.
The new office is designed for connection, adaptability, and resilience, and its spaces accommodate the need for organizations to provide a hub, a resource, and a showroom for employees, clients, and collaborators.
Reassessing Space Needs: The rise of remote work, combined with higher operational costs due to COVID-19 precautions, may incentivize companies to shrink their office footprints.
"We sent out an internal survey, and learned that even when conditions return to normal, two-thirds of our staff said they'd like to continue to work from home one or more days a week. We believe we will need more collaborative and communal spaces and fewer individual workstations in our studio to accommodate this evolving work dynamic," Young said.
The new space, guided by research and findings gathered through client roundtables and staff surveys, reflects the latest in workplace design thinking. Because fewer staff will be in the office at any given time, seating will be free-address and all employees will keep belongings in personal lockers.
Embracing the Hub and Spoke Model: Companies may find that employees are better served by a larger number of small, decentralized outposts rather than a single, consolidated office location.
"The new office is a reimagined hub, supporting collaboration, mentorship, and culture-building that cannot be realized from the comfort of home," Young said.
Access to daylight and the impressive city views of Pittsburgh are celebrated through careful planning to situate seating and casual gathering areas via windows along the office perimeter.
Adapting Office Benchmarks: Even when the threat of COVID-19 has passed, traditional space planning guidelines are likely to shift as a result of new office models and ways of working.
"The new office design takes all of these needs into account, accentuating collaborative and versatile spaces for new ways of working in a post-COVID world," said Young.
The new Pittsburgh studio is serving as a pilot for Perkins Eastman's offices moving forward. Keeping our workplaces up-to-date and agile has increased employee confidence and satisfaction and helped us maintain an efficient workflow.
The enthusiasm by our staff for the new design has exceeded expectations, and the news of the Pittsburgh relocation has led to increased interest by Pittsburgh press.
We will continue to check in with the Pittsburgh team as the studio construction progresses and staff begin to move in this spring. Our research is ongoing, and we hope these insights will influence new and competitive models of working in the exciting future of work and workplace design.